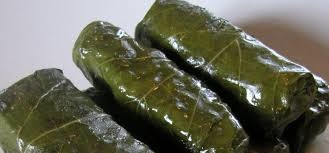 Stuffed grape leaves with rice are little wraps. They are usually stuffed with rice as a vegetarian option or they can be made with ground beef too. In this recipe we just use rice. These are great to eat as an appetizer or a side dish.
Ingredients
250 gr. vine leaves (you find them in a jar ready to use)
1 bunch spring onions, finely chopped
2 onions finely chopped
9 oz short grain rice
1/2 bunch parsley, finely chopped
1/2 bunch dill, finely chopped (optional)
fresh mint to taste – dry mint will do too
1 1/4 cup of Katerina's Finest Extra Virgin Olive Oil
2 cups of boiling water
juice of 1 1/2 lemons
salt and pepper to taste
Directions
I use the jarred already washed and blanched vine leaves.
In a bowl, mix the finely chopped spring onions, finely chopped onions, mint, rice, salt, pepper half of the quantity of the oil, parsley, dill.
Take one vine leaf, spread it on a plate, add about half tablespoon or so of the mix. Fold the tip of the leaf over the filling, then roll tightly to make a roughly 2-inch by 1⁄2 inch cigar(spring roll) shape. Place the roll, seam side down, in the lined pot. Continue with the remaining leaves and filling, placing them tightly together in the pot and continuing onto a second layer as necessary.
Place the pot on the stove and add 2 cups boiling water, the lemon juice, and the remaining quantity of oil. Bring to a simmer over medium heat, then lower the heat to medium-low and cover the pan; cook until the rice and the leaves are very tender, about 1 to 1.5 hours. You might have to add more water while boiling.
Remove the pot and let cool. Serve the dolmakadia at room temperature or chilled, drizzled with olive oil and alongside lemon wedges for squeezing and Greek yogurt for dipping or topping.