Ingredients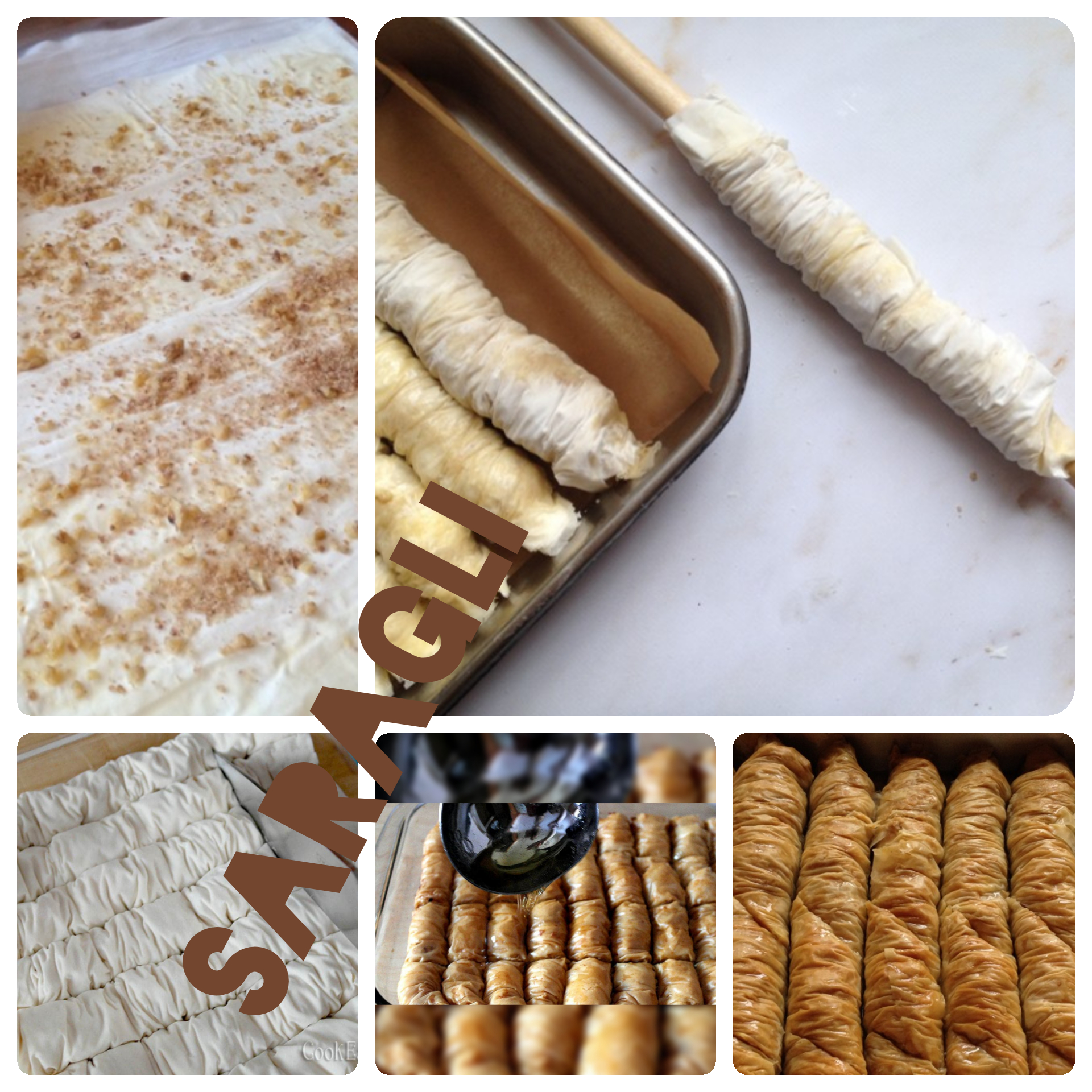 Filling
1 cup finely chopped walnuts
1 cup finely chopped almonds
¾ cup pistachios
2 teaspoon ground cloves
1 teaspoon ground cinnamon
Syrup
2 cups water
2 cups honey
2 cups sugar
Cinnamon stick
5 to 6 whole gloves
1 box of fillo sheets (thawed)
1⁄2 inch wooden dowel or you can use knitting needs. This will work too!
Directions
Open filo sheet package and lay stack vertically on top of slightly damp kitchen towel with sheet of plastic wrap on top. Using olive oil, very lightly brush filo sheet and evenly scatter nut filling across oiled sheet. Use approx. 1/4 cup of nut filling per roll.
From the bottom end, fold over about an inch of the filo dough and lay dowel across the folded pieces then gently roll up over the nut mixture to the top of the filo sheet. Set rolled sheet aside at top of stack of filo sheets and lightly brush new filo sheet with olive oil. Roll the new sheet right on top of the roll containing the nut filling.
Firmly grasp the dowel at each end of the rolled filo sheets and gently push each end toward the center in order to bunch up the filo roll. Go slowly so you're folds are evenly distributed. Hold dowel over the parchment lined pan and carefully push/nudge bunched roll off dowel and into pan.
Your finished 12-13 filled/bunched rolls should be just about 8-9 inches long and fit perfectly into 2, 9×13 inch baking pan.
Lightly brush the tops and sides of each roll with olive oil and score. Scoring simply means to cut just through the first layers of fillo dough with a very sharp knife or razor blade. Bake for 40 minutes at 350 degrees until golden.
Combine syrup ingredients in small pot and boil in medium low heat for 5 minutes. Pour syrup directly over top of your still warm saragli, give them 15-30 to soak up syrup and serve.