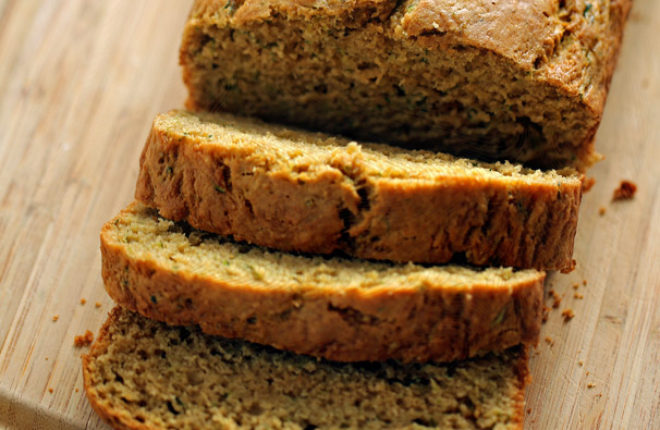 PREP TIME 20 Min COOK TIME 1 Hr 10 Min READY IN 1 Hr 30 Min Original recipe yield 2 – 8×4 inch loaves
INGREDIENTS
3 eggs
1 cup Katerina's Finest Greek Extra Virgin Olive Oil
3/4 cup white sugar
1 cup apple sauce
2 cups grated zucchini
2 teaspoons vanilla or lemon extract
3 cups all-purpose flour
3 teaspoons ground cinnamon
1 teaspoon baking soda
1/4 teaspoon baking powder
1 teaspoon salt
1/2 cup chopped walnuts ( optional )
DIRECTIONS
Preheat oven to 325 degrees F ( 165 degrees C). Grease and flour two 8×4 inch loaf pans.
In a large bowl, beat eggs until light and frothy. Mix in oil and sugar. Stir in zucchini and vanilla or lemon extract. Combine flour, cinnamon, soda, baking powder, salt and nuts ( optional); stir into the egg mixture. Divide batter into prepared pans.
Bake for 60 to 70 minutes, or until done. Just do the tooth pick test in the middle of the loaf to be sure! Good luck!